Welcome to ADULT soccer PROGRAMS 2022/2023!
We are pleased to announce some new Adult Programs for this season!
Summer ADULT DROP-IN SOCCER:
Thursdays: July 14, 21, 28 Aug 4, 11, 18, 25 September 1, 9, 16, 23, 30.
6:30-8:30pm
Location: Clear Vista School – 4510 47 st, Wetaskiwin Alberta T9A 1B8
Ages: 16+
Costs: ASA insurance $30 (All previously registered WSC Coaches/Players are no charge).
Payment can be sent to Treasurer@Wetaskiwinsoccer.com via E-transfer Note: Adult Summer Soccer
ADULT COED TEAM:
More information coming soon.
Sundays in Leduc or Beaumont.
Costs: $225 ($150 league fee, $50 jersey deposit, $25 general fee(equipment, facility admin)
2021-2022 indoor season: Leduc and Beaumont Adult Coed league
Season starts on Sunday, November 7th, 2021, and lasts 14 weeks.
To Order Your Own Apparel: BUY NOW!
Game days will be as follows:
Matchday 1: Sunday, Nov 7th
Matchday 2: Sunday, Nov 14th
Matchday 3: Sunday, Nov 21st
Matchday 4: Sunday, Dec 5th
Matchday 5: Sunday, Dec 12th
Matchday 6: Sunday, Dec 19th
Matchday 7: Sunday, Jan 9th
Matchday 8: Sunday, Jan 16th
Matchday 9: Sunday, Jan 23rd
Matchday 10: Sunday, Jan 30th
Matchday 11: Sunday, February 6th
Matchday 12: Sunday, February 13th
Matchday 13: Sunday, February 27th
Matchday 14: Sunday, March 6th
Schedule will be found on the homepage. Schedule will be published no later than October 31st.
Every team plays one game a week for 14 weeks. we use a rotating schedule to make sure every teams gets assigned a fair amount of early/late times. A typical game consists of: quick warm up warm up, 1st half (25 min, stoppage time only in the last minute), 2 min half time break, 2nd half (25 min stoppage time only in the last minute). Teams must arrive early so they don't delay the following games. game sheets (click "here" for a blank one) must be filled before the start of the game by the team captains/managers.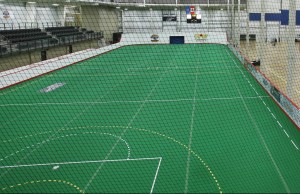 The league is sanctioned and insured by Alberta soccer. Two FIFA referees are provided to every game. The league follows the FIFA rules of soccer for indoor soccer with the exception that we removed slide tackling from the game. Click "here" for the laws of the game of soccer and "here" for the rules of indoor soccer. The league is part of the battle river district (BRSA) and follows the BRSA district rules and regulations. Player registered with EDSA and Leduc Adult Soccer League are authorized to play legally with both leagues.
Player are to wear appropriate equipment for the sport of Indoor soccer: indoor shoes(no cleats), socks, shin pads, shorts. No jewelry (as per Law 4 of the game). Wetaskiwin will provide jerseys to our Adult Coed Team, you are also able to order your own customizable jersey with your own number and name on the back if you wish through the Wetaskiwin Soccer Club Store.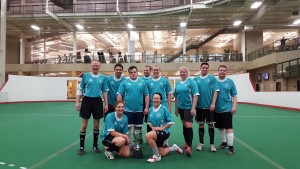 The game of indoor soccer is played with 5 players and a goalie in each teams. Teams are asked this year to play with a minimum of one female player at all time (goalie does not count). If a team is not able to have one women at all time on the field, that team will have to play short one player when the female player is not on the field .